Paper Tiger Poetry return 26th Nov
Paper Tiger Poetry last nigh was incrediable lots of new faces and fab poetry. Best poets on the night winner are Frankie, Freddy, Martha and Richard. All will be performing 26th Nov Paper Tiger Poetry

Best dressed Act and keeping their Crown Office Girls go Crazy.
We would like to thank Tea House Theatre staff  for their support and
hard work keep us all fed and waters and of course all our acts and most importanly our audience
We return Friday 26th Nov with Shaun Rivers John Wheeller, George E Harris and man best friend and 4 poets challenge
                                                                       if you don't see your picture just message me
 29th Oct Paper Tiger
Best selling Author Tom McColl open our show with london best loved poets and comedian last month new challeng is The 4 Poets challenge office Girls for their title of Top Dog.
Lee Campbell, Julia Teal, Ben H and Nicki Orrel arrive early to take part show start 7:30 PM
We return Friday 29th Oct with Aain English Tom McColl, Nicoletta Wylde , Jessica Lawrence and of course the The 4 Poet who dare chllenge the Office GIRLS GO cRAZY.
Don't forget to tell all your friends on facebook, twitter start spreading the News
Pictures and video taken on 24th Sept if you don't see your picture just messge me all the pictures below are optomize for web and video on Youtube London Poetry Books
Well it happen an incredible evening some of the best acts i'v seen yet.
The 3 Queens of Poetry sent a message of apologies and surrendered quietly and disappear like smoke and mirrows.
New challenge; The 4 poet challenge the Office Girls for thir Crown of Top Dog
Lee Campbell will have something to say about that!!!
our winner of the best poem on the night make challenge
Office Girl EXCEPT THE BATTLE OF THE VOICES – IS ON
Best poems on the night winner are outstanding, Julie Teal, amazing new comer, Don delightful suprize,
There are no words Lee Campbell just Get better and better the whole house loved his poem simply brilliant,
Nicky newcomer audance love her sweet words poem they will be back next Paper Tiger Poetry. The 4 Poet challening Office Girls for the title Top dog
All the acts were fab, gust apperarence Tom McColl feature Oct 29th Paper Tiger Poetry just a taster of what to come
Special thank to Wordvile Press for Polly Bull Wonderful performance, selection from Polly new book OUTSIDE IN
Thank you to Tea House Theather staff and most inporantly our audience who made it anothe succfull evening.
Cheryl Mclennan
All ready bothside voices in go mode
All quite on the Western Front, slicence stilness the voices are gathering on both side who will be the victor Cherly Mclennan laydown the law. Will they listen ? Bothside look on all will be reveal @ Paper Tiger Poetry Friday 24th Sept show start 7:30 pm sign up for open mic from 7 pm £5 on the door all money raise for the Book Project free publishing for selected new talent.
The Queen of Beauty
New just in The Queen of Illision on the move, what a foot ? The Queen of Beauty is up to no good, dazzle by beauty. How will Rodney Wood stand up ? oFFICE gIRLS get ready, more Queens on route. Bewhere beauty conquers all. WHO CAN RESIST bEAUTY all will be revealed at Paper Tiger Poery Friday 24th Sept show start 7:30 Tea House Theatre SE11 5HL
Queen-of-beauty
Tom McColl is being woo by the Queen of Beauty how will he fair ? The Office Girls are in troubble now , are they ? Tom not even on the bill, not yet. beauty conquers all not neccearyly so. OFFICE GIRLS TROOPS Crumble to Beauty onset watchout Master Rodney Wood beauty has an eye on you.
Paper Tiger Poetry return
Wonderfully successful evening lots of new poets packed to referrer. Big thankyou to all who sail in our stream. We return Friday 24 Sept with 5 publish authors  Office girls go Crazy, Poppy Dillon, Cheryl Mclennan Rodney Wood, Heather Moulson special guest poet The 3 Queens of Poetry
Pictures  Paper Tiger Poetry
Paper Tiger Poetry returns Friday 24th Sept show 7:30 pm The 3 Queens  and Friends . Show start 7:30 pm , Sign up for open mic from 7 pm £5 entry venue
Tea House Theatre 139 Vauxhall Walk SE.11 5HL
hope to see you all there !
Alain English
Don't just stand there
Join the club with poetry from Alain English.
A poem day help you work rest and travel
English is a Foreign Language by Alain English,
Alain from Scotland
Ghost Lane
The poem addresses my early memories of growing up in Sidcup and the Kent Countryside. Taking the reader and myself to a place long gone now and where memory and ghosts are forever entwined. Formative childhood experiences that still remain vivid even now. Music was the first art form l was introduced to by my father and my very first music teacher who had a profound influence on my development as a musician and creative person. The poem describes the walk my father and l took to meet my piano teacher for the very first time. A walk to a beautiful bungalow set in its own garden. A garden full of summery colour and brightness. I took to my piano lessons like a duck to water and a whole new world was opened up to me from that moment on.
Due for release 2021
Robert Yates
Dine out with Robert Yates book Nihilistic City Nights a breath of fresh air
Nihilistic City Nights
"The poetry of Robert Yates is both brooding and exacting; something about it unnerves us, it sees too clearly into things: the dystopian vacuity of modern life, our shared language doomed to a series of dull clucks and futile gestures. Don't come to these poems for consolation, but for the exhilaration of seeing all with absolute clarity. Uncompromising and strangely haunting stuff." Fran
Lock .

London Poetry Books trademark Registered IPO
Robert Yates N
ew Collection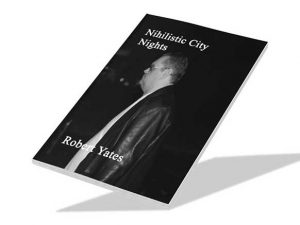 Product Details
Copyright Robert Yates
Published 22 March 2020
Language English
Pages 48
Binding Perfect-bound Paperback
Interior Ink Black & white
Weight 0.12 kg
Dimensions (centimetres) 14.81 wide x 20.98 tall