David Lee Morgan.
  New Book Nazis Need Jews. "Revolutionary Poetry"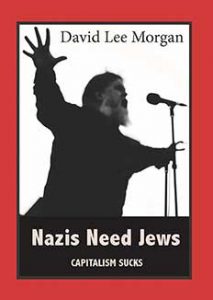 Nazis Need Jews "When I was a kid, I thought antisemitism was dead forever, died of shame. Turns out it's like crabgrass. You think it's wiped out. You dug it all up – it's gone – but then here it is again." A fearless, compassionate look at conspiracy theory, fascism, antisemitism, and the possibility of worldwide revolutionary change.London, UK, and BBC Slam Poetry Champion, David Lee Morgan, has travelled the world with his saxophone as a performance poet and musician. He has featured at many poetry festivals and events, including StAnza (St. Andrews, Scotland), Lingo (Dublin, Ireland), the New York Poetry Festival, and the Isle of Wight Festival. He is a longstanding member of the Writers Guild (has served on the Executive Committee) and holds a Ph.D. in Creative Writing from Newcastle University. He lives in London, grew up in the USA and was born in Berlin. He has been published in various journals, including The Wooster Review, The Delinquent, Prowl, The Human Rights Anthology, The Huffington Post, Gronthee and Indigo. Find our books on South London Boo
Art Squares Look & Stare
Art-squares-look-and-stare-Free-Extract
My third book of poems is a broad selection of themes and ideas written over the last two years. Some
drawn from personal experience and direct observation while others more playful, fanciful, surreal; reflecting individual concerns more sociological than political. A mixed bag of assorted vignettes and anecdotes brought together under the collective title 'Art squares look and stare'. A large majority of the poems are written and presented in traditional stanza form. A conscious decision made in order to tighten up the work to make the pieces concise, pithier and structurally more coherent.
Of the Deep
Throughout her life, Ingrid Andrew created art and wrote poetry prolifically.  She later added music and song to celebrate her passion for the natural world and humanity, also her fears.  In this thought-provoking but delightful volume, 'of the Deep', you will find quirky humour too and affectionate observation.  Ingrid's life ended in 2015.
The volume has 22 poems, each gently remarkable, with one ferociously defiant.  The overriding sensation is of  her tenderness.  It opens with 'I am a mermaid', the dark complexity of depression and its destination, whereas 'January's gift' reflects life and hope, and 'Every leaf is a green cup', internal melancholy.
In further poems you will discover resolve, sadness at the vulnerability of this planet, also survival; understanding of cruel realities, and mischievous celebration of sensuousness; plus gentle celebration of heaven on earth in a Clapham café!
Tongue-in-cheek observation of the challenge of writing with simplicity and directness, and in 'This saxophone', written with saxophonist Vivienne Soane, a sublime expression of the passion and reality of the love of this instrument.  'Casper David Friedrich' pays homage to the "distilled ecstasy" of that great German romantic painter.
Expression of pure adoration in 'My daughter's first word was DARK', and pantomime humour and observation in 'A FISHY ode'.  There's distilled sadness in 'Afghanistan', and following, there's tender reaching-out to those with almost nothing.
'The Loyal and Ever Lasting Umbrella' celebrates Ingrid's quirky and inventive mind, but 'I am Ing's Ride' lays down her burgeoning sense of self in eternity.
'The Charcoal Woman' is a sparse and ingenious story of hope, inspired by the aftermath of wildfire in Australia.  This is powerfully followed by 'Beast', magnificent defiance of her destiny.
Appropriately for Ingrid, she ends with 'The Surgeon' expressing her overriding love, concern and despair of the best and worst in this world.
Ingrid's first volume 'The Bird of Morning' is also available from William Cornelius Harris Publishing.  Her creative website www.ingridandrew.wordpress.com is still there to both stimulate and soothe heart and soul.  She welcomes you with tenderness.
JR Andrew
3 June 2016
Pocket full of Whispers by Keith Bray
Keith Bray, a talented musician, plays many instruments, and a collaborator in music and performance to make original and inspired work over many decades.  He both writes lyrics for music; and poetry for performance, which are a delight to read.   He has been an entertainer and music therapist to the elderly and many others. He is a talented painter and a poet.
This selection of his work is his first published book of poetry.
Written in short verses often mainly of four to six lines and the majority of not more than six verses, with lines that roll from the tongue and never leave the reader gasping for breath, or the attention wandering, or the mind befuddled, but the mind is engaged throughout.
Keith Bray writes with empathy and clear perception of frail hopeful humanity as in "Tipsy Fingertips" .And  a powerful observation of the natural and the built environment. In "Not just any Street" he distils the beauty within and around a street and the sky which is usually passed without a glance. "Store Brewing" Is a beauty of description of a cat, catlike dodging getting wet. Giving the beautiful alliteration of
"Satin smooth
Baster black cat                (I had to google "baster")
Slides panther sleek"
And later
"Slips out of the night
Slinking into the electric
Soft-measured
Synthetic light"
"Moments of recognition Re-observed" is about unique times one sees a rare sighting of nature. The, you only get to see one kingfisher, moments.
Compare the despair of This stupid Love
Rings out
Without singing" which finishes
with "Turns seas into gutters"
to the contentment of "Darby and Jones" as a humorous homecoming after all the vicissitudes of life.
Keith Brays poetry connects, it is kind, and it is good. And well worth reading.
I'm Not Here For Your Entertainment
Is a collection of edgy, melancholic, sexually explicit, traumatic, dark, socio-political, uncomfortable and often shockingly visceral poetry.
This book of poetry is, her book of poetry.. a reflection of a life less ordinary
REVIEW
'I am not here for your Entertainment'
by Ingrid Andrew
This woman with the beautiful name of Tara Fleur and the equally resonant and unforgettable name that first grabbed my attention 'Woman of Bones' has her first written her first, mesmerizing collection of poetry in the William Cornelius Harris/Jason Why stable.
The first powerful,compelling and unforgettable  poem is  'Woman of Bones' with its continous refrain Don't
(…  don't try to cure me, I am an incurable woman.  Don't whisper, what I already know.
Don't dear oh dear, bones –
Don't call me a bitch, a cunt or a cow. I am  a Woman of Bones. I am a grim warrior now
…..
and don't bother praying for me, I choose not to rest in peace ..'
Taras poems speak soul to soul, heart to heart of her own reality, her fierce and unwavering acceptance of what is, of what she feels and of her own traumatic experiences.
Her poems often speak of an almost unbearable, aching  reality 'Hush little baby, don't wet the bed … or mama's gonna punch you in your soft, sweet head '
or are again startlingly, exposingly, unforgettably, corruscatingly honest …   as in 'Sorry' where Tara apologizes for being a bystander to the suffering she witnesses, when in her former career of psychiatric nurse …  'I had my nurse's hat on' while enduring her own soul torment.
'….  my night shifts moaned and groaned, boundaries blurred between the living and the dead, strange whispers seeping through locked doors …'
Tara's poems are never less than extraordinarily vivid and memorable.   Her eyes unflinchingly look into the darkest places and experiences that a human being can suffer, her bones speak,her voice insists on being heard.
Ingrid Andrew